SVERIGES MODELLFLYGFÖRBUND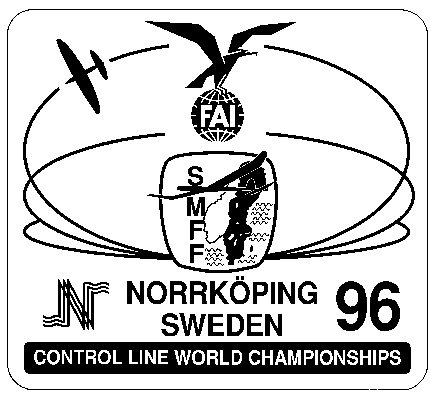 THE 1996 WORLD CHAMPIONSHIPS FOR CONTROL LINE AEROMODELS
July 22-28, Norrköping, Sweden
BULLETIN No. 2
April 19, 1996
[Corrections included April 30.]
---
This is Bulletin No. 2 with the latest updates about the 1996 Control Line World Championships and information on how to make the Final Entry.
Because distribution of this bulletin is two days late, the closing date for returning the enclosed Final Entry Form and payment has been postponed to May 24.
Special attention should be given to a correction of the junior definition which was given in Bulletin No. 1, and to a number of rule changes which will be in effect already at the 1996 World Championships.

Enclosed are: [not here on the WWW]
Final Entry Form - 4 pages
Norrköping Tourist Information
Hotel Leaflets
Junior Rule - A Correction
The CIAM Bureau has issued a correction to Bulletin No. 1 concerning the age classification of a junior competitor. The age limit should be 18 (eighteen), not 19 (nineteen), as was stated.

Quoted from the Minutes of the March 27 Bureau meeting:

The meeting required that the Organisers of the 1996 F2A, F2B, F2C and F2D World Championships immediately issue a correction to the "IMPORTANT" note in its Bulletin No. 1 dated the 7th February, the correction to read:

"The CIAM Bureau has drawn attention to the erroneous advice given in Bulletin No. 1 regarding Rule B.3.4. of the Sporting Code. The sentence must read: 'A competitor is considered to be a junior up to and including the calendar year in which he attains the age of 18.'"

We regret that confusion at the January CIAM Bureau meeting caused us to give invalid information on this important issue.
Rule Changes
The CIAM Plenary Meeting decided on a number of rule changes and clarifications that will be in effect from June 1, 1996, and therefore apply to the 1996 World Championships. The changes will be briefly mentioned here, but we suggest that you obtain the text issued later by FAI.

F2B:
4.2.4: For models weighing 2 kilograms or more (or having an engine capacity over 10 cc from 1997), the maximum pull is changed to 30 kilograms. (This means that a model weighing 1999 grams is pulled to 20 kilograms, and one extra gram raises the pull test to 30 kilograms!!)
4.2.12: Points between 0 and 10 are awarded in increments of .5, also in open internationals.
4.2.14d: The three best juniors are entitled to fly three final flights.
4.2.16.1 "take-off" replaced by "release of the model".

F2C:
4.3.5b: Pull test increased to 30 times model weight.
4.3.5b1: If stranded lines are used, they shall have at least three strands. All strands shall be of equal diameter and the combination shall have a minimum width of .34 mm with no minus tolerance allowed. Measuring tool surface width should be between 5 and 8 mm.
4.3.7d and n: replace "on the ground" with "as close to the ground as defined by the F2C jury".
4.3.10a: Number of qualification flights increased to three.
4.3.10h: Junior finals decided as described in our Bulletin No. 1.

F2D:
4.4.4: The pilot must always wear protective headgear.
4.4.15x: added: "if one or both opponents are guilty of either a) causing line tangles; or b) a 'sawing' action on the line(s); he/they may be disqualified at the discretion of the circle marshal.
4.4.16: added: Junior final tournament to resolve the top three decided as described in our Bulletin No. 1.

F2B Judges' guide clarified: "Judges' position: The panel of judges shall be placed according to the pilot's direction given prior to the start of the flight. They shall remain in this position even if the wind changes."
Opening Ceremony
The Town of Norrköping invites all participants to the Opening Ceremony to be held on the evening of July 23 in the Louis de Geer Hall in central Norrköping. The Hall, a former paper mill that has been converted into a concert hall, faces the Strömmen River falls, and is located in one of Sweden's earliest industrial areas which contains many preserved 17th century buildings.
Officials
The following officials have been appointed:


Contest Director:	Robert Sundström (SMFF President)
Assistant Contest Dir:	Ulf Larsson
Contest Treasurer:	Bo Modigh (SMFF Treasurer)
Site Manager:		Bo Hallgren
Circle Marshals	F2A:	Bengt-Åke Fällgren
		F2B:	Thorbjörn Odsjö
		F2C:	Gösta Bengtsar
		F2D:	Stefan Karlsson
Processing Director:	Ulf Larsson
Results Manager:	Bengt Lindgren

Contest Site
A detailed map of the contest site will be included in Bulletin No. 3. On site facilities include premises for model servicing and safe overnight storage. Medical care will be available.
Preliminary Entries
Preliminary entries indicate that we will have the largest Control Line World Championships ever! In F2C, the twelve team semi-finals rule will take effect for the first time! (Divide figures below by two to get number of teams.) Unfortunately, junior entries in F2A are only four, which is too few to give this category World Championships status. F2C has five, which is just enough. We therefore urge you to do your best to find juniors to enter in F2A and F2C. The entries are presented below with countries listed in order of receipt of the entry.

				       Com- Sup- To- Ho- Dor- Cam- Stays
		TM A,jr B,jr C,jr D,jr pet. por. tal tel mit. ping x-day
Israel		1       3               4         4   4              3
Japan		1  1    3               5    4    9   9
Russia		1  3 1  3 1  6 2  3 1  21    5   26       26
China		2  3    4    4    3    16    2   18  18             18
South Africa	1	3               4    2    6   6              6
Switzerland	1       3    4    1     9    8   17  15         2
Australia	1  2         6    3    12    4   16  16
Italy		2  3    3    6    3    17   10   27  27             27
Denmark		   1    3 1       3     8    8   16            16
United Kingdom	2  3    3    6    4 1  19   16   35  20   10    4   10
USA		2  3    3    6    3 1  18   25   43  45             45
Belarus		1       3 1       3 1   9    5   14        8    6
Brazil		2  2    3    6    3    16    6   22  22
Norway		                  1     1    2    3        3
Finland		2  1    3 1       3    10    3   13   6    4    3    2
New Zealand	   1    1    2    1     5    3    8   6    2         8
Canada		1  3    3    4    3    14    1   15  15              5
Czech Republic	1  2    3    4    3 1  14        14       14
Portugal	        2    4          6    2    8   4    4         3
Belgium		1  1    3    2          7    1    8   2    3    2
Spain		1  3    3    6    3 1  17    2   19  19
Germany		1  3    3    6    3 1  17   22   39   5   11   23
Hungary		   3    3               6    1    7        7
Austria		   2    3    4    3    12        12   5         7
France		2  3 1  3 1  6 2  1 1  20    8   28  18    3    6   17
Netherlands	1  2    2    6    3    14    1   15
Latvia		        1         3 1   5         5        5
Kazakhstan	1                 3     4         4        4
Poland	 	1  3 1  3 1  6 2  3 1  21    2   23       23
Ukraine		1  3 1  3 1  6 2  3 1  21        21            21
Sweden		2  3    3 1  6    3 1  18   10   28  10   18        12
TOTAL: 	31    32 54 4 79 8 106 8 68 12 371 153	524 272  145   90  139

Arrivals
Early arrivals are possible from July 15, when lodging and some practice areas on site will be available. Meals are not provided by the organisers until dinner on July 22. The last meal included in the package is breakfast on July 28. Additional meals are available until breakfast on July 30. Transportation service is available from July 22 to July 29.
Lodging
Hotel:
With the preliminary entries much above expectations, we cannot be certain that all guests can be lodged in the primary hotel, Scandic Norra. We have rooms in another hotel in central Norrköping, Scandic City, at the same price. The standard is at least equal. There is, however, no free car parking at this hotel. (A price indication is 45-100 kr per day.) Therefore we will first relocate those complete national teams that have no cars. We will provide transportation from both hotels as necessary. Leaflets describing the hotels are enclosed. If you have preference for a certain hotel, please specify in the Final Entry Form. Two-bed room is the normal accommodation. Three bed rooms (and three-bed with an extra bed) are available for families, for odd-numbered national group members as an alternative to a more expensive single bed room, or for people preferring to save cost. In the latter two cases, advance payment for two-bed room should be made. If a three-bed room is available, the excess will be refunded.
Dormitory:
We have been able to determine that the majority of dormitory rooms have door locks, and we will offer these at no extra cost. They will be allocated in the order of payment. You will be notified if no lockable room could be allocated. There are two keys for each room. The rooms are about 3.5 x 5.5 metres. There are four beds, four steel closets of size .3 x .6 x 2 metres and a table with four chairs. Remember that bed sheet of your own must be provided. The dormitory houses have lounges and space for model servicing and storage. Rooms will be shared only with fellow countrymen. We also recommend that you bring a padlock for the closet.
Meals
The food package has been separated into breakfast, lunch and dinner packages to provide maximum flexibility. Any special requirements for food, such as vegetarian, should be noted on the Final Entry Form. Meals for extra days should be booked and paid for upon arrival.
Banquet
The banquet will be held in a ballroom restaurant. You will be served a two dish Swedish speciality dinner with half a bottle of wine (or suitable alternative table drink) and coffee. A local Big Band called "Aircraft" will provide musical entertainment.
Tourism
Tourist programmes will be offered on all days. The Norrköping Tourist Office offers a ticket that gives access to many museums as well as transport on trams and buses. Details may be found in the enclosed tourist information. The Kolmården open air zoo with Swedish as well as African wildlife and a big dolphinarium is a special treat.
Excursion Tour
An excursion tour is scheduled for July 28. The tour will be by ship for a trip on Slätbaken Bay and into the St. Anna Archipelago, a multitude of small rocky islands along the coast. The archipelago displays the uniquely Swedish landscape. Lunch and coffee will be served on board. Buses will depart at around 10:30 for transport to the ship waiting in Söderköping, the tiny sister town of Norrköping. Since the ship has limited capacity, make sure to book the tour on the Final Entry Form. The price including lunch and coffee is 170 kr.
Seminars
After the tour, seminars for each category will be arranged at Bråvalla. The agenda will be settled during the competition. There will be no extra fee for the seminars.
Currency Exchange Rates
Here is an indication of some exchange rates. For the actual rate, consult a bank. 100 Swedish Kronor costs: 18.1 Swiss Francs; 14.8 US Dollars; 22.3 German Marks; 9.8 British Pounds; 75.9 French Francs.
Car Rental
Some of you have received quotations for car rental rates from your local agencies which seem to be excessive. There are, however, special summer rates available. A problem, though, is that these prices are not made public until the middle of May, and apply only to bookings made from an office in Sweden. We have been able to receive an indication that a compact car with manual transmission will cost around 310 kr per day for periods over one week, including insurance and unlimited distance. Airport tax of 94 kr is added. Petrol (gasoline) costs around 8 kr per litre. Here are phone numbers to the Stockholm Airport offices of four major car rental companies:

Avis: +46 59511500 Budget: +46 7978470 Europcar: +46 59360940 Hertz: +46 7979900
Fuel
Fuel ingredients will be sold on site. This is done by a hobby shop specialising in Control Line, 3F Hobbyservice, ensuring suitable grades. We request that an advance order be indicated on the Final Entry Form. Advance orders can be prepared in suitable containers.
For F2A competitors .3 litres and for F2D competitors .5 litres of official fuel will be provided for practice at no extra cost.
Fuel for the contest flights is also free of charge.
Additional F2A and F2D contest fuel quantities for practice will be available for purchase.
The oil for the contest fuel will be Castrol M.
The purity of the methanol will be analysed and declared. (Vendor specification is .03% water maximum.)
In F2A extra care will be taken to keep the contest fuel at constant temperature throughout the contest.

						Price,	Sold in/by
Items sold:				  kr per litre	

Methanol					12	volume
Nitromethane					150	volume
Kerosene (Statoil Blå,
 used by Swedish T/R teams)			18	volume
Diethyl Ether					100	½ litre bottle
Diesel Ignition Improver II
 (Ethyl Corporation)				220	volume
Castrol M (castor oil)				80	1 litre can
Castor oil, first pressing			65	1 litre bottle
ML 70 (synthetic oil)				100	1 litre bottle
Castrol MSSR (synthetic oil)			100	1 litre can
Aerosynth (synthetic oil)			120	1 litre can
F2A Contest Fuel				28	volume
F2D Contest Fuel				45	volume
Petrol (Naphtha) for cleaning			20	volume

All oils are also sold in smaller quantities at about 15% extra cost.
The SMFF office is able to receive and store advance shipments of fuel.
The shipment should have the fuel in carefully sealed metal cans with adequate protection and outer packaging.
Before anything is shipped, agreement should be made with the SMFF office. Whether customs duty will be charged has to be resolved prior to shipment.
Weight and volume should be specified so that storage space can be arranged.
Package weight should be limited to 25 kilograms.
Freight should be paid for in full for delivery to the SMFF office street address.
SMFF may open the packaging to inspect the safety of the contents. Anything that shows smell or other signs of leakage will be disposed of! We will notify the sender in such a case.
The SMFF delivery address is found below.
Documents Required
All competitors and team managers must carry valid FAI licences and identity documents.
The F2D mechanics must be entered as such at registration, and also must carry valid FAI licences. (They pay the helper entry fee.)
F2A helpers should be registered as such, but need no FAI licence.
Other helpers and supporters need no licence.
Juniors must have a passport attesting that they are born on January 1, 1978 or later.
The competitor must have model specification certificates for all models entered.
The team must show a signed and stamped NAC team nomination. Normally the Final Entry Form is sufficient.
The team should bring a National Flag of the approximate size 1 x 1.5 metres, and an audio cassette with the National Anthem.
Insurance
The organisers will have insurance covering third party damage and medical care for people not covered by international treaties.
Fees and Payment
The fees are now given in Swedish Kronor, corresponding to the amounts formerly given in Swiss Francs.

Obligatory Entry Fees (per person)			SEK
						(Swedish Kronor)
- Competitors, Team Mgrs and Asst Team Mgrs		1380
- Junior Competitors					690
- Helpers, Supporters, Press and Independent Observers	275

For each additional competition category, add 50% of the entry fee.

Lodging (per person)				6 days	additional 
                                                         day
I, Hotel, includes breakfast
	two-bed room (main alternative)		1910	315
	single-bed room (optional)		3025	500
	three-bed room (limited in number)	1545	255
II, Dormitory					495	80
III, Camping					110	20

Meals			
Breakfast, Bråvalla		6 x		230	40
Lunch, Bråvalla			5 x		240	50
Dinner, Bråvalla or hotel	5 x		415	85
	
Banquet							260
Tour							170


A few clarifications:
Reigning World Champions pay the same fee as regular competitors.
A competitor who is also a Team Manager pays only the single competitor fee.
A competitor in two categories pays an entry fee of 150%, i.e. 2070 kr (for a senior).
F2D mechanics pay as helpers.
[Included April 30]
The Bulletin No. 1 stated that meals for children under 12 are at a reduced cost. There is no mention of this in the Bulletin No. 2, however. The SMFF office will be able to give the figures to those who ask in a short time. Those that pay the full price in advance will get the overshoot refunded.
Terms of Payment:
Payment of fees is to be made in advance.
Payment received after May 24 and by June 24 will be assessed a 6% penalty, and payments received after June 24 will be subject to a 12% penalty. The penalties apply only to the obligatory entry fees.
Lodging will be allocated in order of full payment for the same. The penalty for late payment could be a worse lodging alternative.
If partial payment is received, it will be used for entry fees first.
Any excess payment will be refunded upon registration. This does not apply to cancellations.
Method of payment:
Payment is to be made in Swedish Kronor.
Payment in other currency is accepted only after a settlement on the amount is made with the SMFF office.
All bank costs must be paid by the sender.
Use international check, transfer to the SMFF bank account or postal giro.
Account information is found below.
The 1996 World Championships must be specified when paying.
Receipt of all payments and entries will be acknowledged by the SMFF office as soon as possible.
Receiver of payment:
Sveriges Modellflygförbund
Bank: Svenska Handelsbanken, Account no. 358 990 998

Postal Giro: Account no. 51 81 65-6
Final Entry Form Instructions
Try to fill in the entry as completely as possible. This will simplify procedures on arrival.
Use legible print letters.
Enter the names as you want them to appear in the results and on the badges, surname first.
Specify dates of arrival and departure with the July date numbers.
Specify lodging using these codes: H - Hotel, any; HN - Hotel, Scandic Norra; HC - Hotel, Scandic City; D - Dormitory; C - Camping; For hotel, specify the preferred room size with a figure; 1, 2, 3 or 4 (4 is a three bed room with extra bed.)
You may use small letters to designate the room allocation. Example: Use code H3a for all persons to share the three bed room 'a', H3b for the next room, 'b', and so on.
Specify the age of children under 12 in the 'Note' column.
For competitors that enter in two categories or as Team Manager, enter lodging, food and so on only once. Make an explanatory note in the second entry.
To order breakfast etc, Enter a 'Y' (for 'yes') in the appropriate columns.
For supporters etc, use the first column to denominate F2D mechanics and F2A helpers.
Use the form on the last page to calculate the total payment.
Next Bulletin
Bulletin No. 3 is scheduled for June 10. It will contain detailed travel and arrival information, detailed maps, local rules, presentation of entries and any other necessary updates. A fourth bulletin will be issued only if there are important changes.
Correspondence and Freight Delivery
---
All official correspondence should be sent to:

SMFF
Bo Hallgren
Box 100 22
S-600 10 NORRKÖPING
SWEDEN
Tel: +46 11-132110
Facsimile: +46 11-169160

---
Freight should be sent to:

SMFF
Bo Hallgren
Sandbergsgatan 4
S-603 55 NORRKÖPING
SWEDEN

---
SMFF and the 1996 World Championships Organising Committee,
Göran Olsson
Secretary, Organising Committee
Mats Bejhem
Chairman, Organising Committee
Robert Sundström
President, SMFF, Contest Director