SVERIGES MODELLFLYGFÖRBUND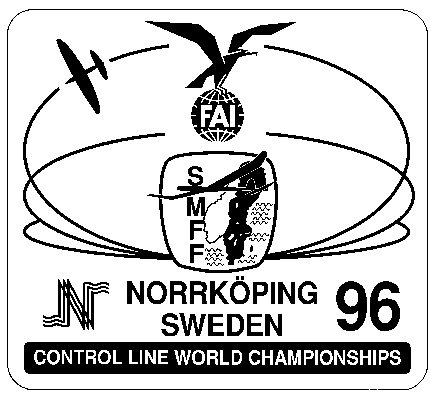 THE 1996 WORLD CHAMPIONSHIPS FOR CONTROL LINE AEROMODELS
July 22-28, Norrköping, Sweden
BULLETIN No. 3
June 11, 1996
---
This is the final Bulletin with the latest updates about the 1996 Control Line World Championships.
Enclosed: Norrköping Map [not in the WWW wersion]
Arrival and Registration
The official registration takes place on Monday, July 22. It is to be made by the Team Manager for the entire team including supporters. Hotel residents that have booked and fully paid in advance may check in at the hotel before registering. Those arriving earlier than July 22 must make a preliminary registration. No practice flying must take place until such registration is made and the most recent information is received. Signs will direct to the registration office. Before July 22, the office will not be open regularly, but there will likely be officials around that can be contacted. No transportation is provided by the organisers before registration on July 22 and upon departure. There is, however, good public transportation available.
Travel Information
Transportation from Stockholm-Arlanda airport: Distance to Norrköping by car: 200 kilometres. Bus to Stockholm: 40 minutes, Train to Norrköping: 2 hours, trains leave at around 1 hour intervals. For transportation from the railway station to the hotel or contest site we suggest a taxi. From the Norrköping airport there are buses to the city.

Norrköping airport arrivals and departures:

From Copenhagen	To Norrköping
09:10			10:20	 (Not Sundays)
10:30			11:40
15:20			16:20	 (Saturdays 16:30)
19:35			20:35	 (Not Saturdays)
22:10			23:05

From Norrköping	To Copenhagen
07:10			08:05
08:00			08:55	 (Not Sundays)
12:10			13:25
14:20			15:35	 (Not Saturdays)
17:30			18:25	 (Not Saturdays)

City Map
A map is enclosed with pointers to all places of interest and suggested routes by car. [Not in the WWW version]
Local Rules
The following local rules apply:
All officials have capacity to enforce safety restrictions.
Practice flying outside the designated flying areas is absolutely forbidden.
There must be no practice flying before 07:00 or after 21:00. (24 hour times)
Smoking is not allowed in the dormitories.
Fuel must not be mixed or handled in any other way inside the dormitories. Fuel mixing should take place outdoors.
The site is on military ground and entry outside the designated contest area is strictly forbidden. The corn fields must not be entered.
Protest Fee
The protest fee is set to 220 Swedish Kronor or 45 Swiss Francs.
Contest Site Layout
The contest site has been rearranged with respect to the layout given in Bulletin No. 1. We have been given access to a greater part of the Bråvalla runway system, and have decided to relocate the contest site so that all circles will be in the middle of the airfield. The F2B circle, requiring a bigger diameter, remains in the runway crossing. The noisier categories are kept at a distance while maintaining a compact layout. The tarmac surface is in excellent condition, true, flat and level, with no bumps whatsoever. Included are four practice circles for F2B and three for each of the other categories. Two of the F2A practice circles have a pylon. There are two F2D contest circles for alternating use. Unfortunately, a detailed map of the site could not be included in this bulletin. [On the WWW, however, it is available here.] [soon]
Site Details
The contest office building has space for storage of models and equipment overnight, which will be locked when not attended by an official. There is also space for repair and service of models.
A pub will be open at nights.
The camping site has electrical power (230 V).
The site will be watched by guards, also during night-time. The guards are able to provide guidance.
F2B Official Practice
With four F2B practice circles available, there are excellent provisions for practice flying. All F2B circles have equal surface and wind conditions, with the exception that the practice circles are on a runway of 40 meters width, making a few steps back necessary when landing. However, for all competitors to have a ten minute allotment for official practice flying in the contest circle would take around fifteen hours, while the official practice is just one day that also must have time for the opening ceremony and judges' briefing flights.

Fortunately, there is a practical solution to this. The entries received show that a large part of the F2B competitors arrive before July 22. Thus, the earliest arriving teams will get their practice allocated to the afternoon of July 22.
Reservations for Lodging, Meals, Banquet and Boat Tour
Be sure to make any reservations not yet made, including payments, as soon as possible, since the resources will be tailored to the actual need. Only a very limited number can be booked on arrival. Further, we cannot guarantee that the cost stays the same.
> Specifically for the hotel, payment must be received before June 26 for the price to be kept.

We strongly recommend the Boat Tour, which includes passing a few locks in the Göta Canal on the way to the Baltic Sea, but please order in advance.
FAI Judge Changes
The Chinese Aeromodelling Association have reported that they will send the Chinese F2B judge Chen Yaming in place of Gan Yanglong.

We got a vacancy for the centre judge position. Therefore we will call in the reserve F2D judge Rob Olijve, Netherlands, to get four FAI F2D judges. Thomas Dürrfeld will serve as a centre judge, with the possibility to alternate with the others.
Bulletin No. 2 Errata
There was no mention that meals for children up to 12 years of age are half the price. This also applies to the banquet. Any excess payment will be refunded.

There was a claim that the organisers' insurance includes medical care. However, the insurance provided is just the third part insurance required by the Sporting Code. We apologise for the incorrect information.
Schedule
The preliminary detailed contest schedule is found below. 24 hour times are used. Meal times are adapted to the contest schedule.

July 16 - July 21

Practice is allowed at the practice areas as soon as they are set in
order and as long as it does not interfere with site preparations.
Preliminary registration must be made before any practice flying.

Monday		July 22

10:00 - 20:00	Registration
12:00 - 18:00	Complement Practice, F2B
20:00 - 22:00	Team Managers' Meeting

Tuesday		July 23

08:00 - 18:00	Official Practice, Processing
11:45 - 13:00	FAI Judges' & Team Managers' Lunch
19:00 - 21:30	Opening Ceremony

Wednesday	July 24

08:00 - 12:00	F2A, Practice
13:00 - 17:30	F2A, Practice
07:30 - 12:30	F2B, Flight 1
13:30 - 18:30	F2B, Flight 1, cont:d 
07:00 - 11:00	F2C Practice
12:00 - 17:30	F2C, Round 1
08:00 - 11:30	F2D, Round 1
12:30 - 17:00	F2D, Round 1, cont:d

Thursday	July 25

08:00 - 12:00	F2A, Flight 1
13:00 - 17:30	F2A, Flight 1, cont:d
07:30 - 12:30	F2B, Flight 1, cont:d
13:30 - 18:30	F2B, Flight 2
07:00 - 11:00	F2C Practice
12:00 - 17:30	F2C, Round 2
08:00 - 11:30	F2D, Round 2
12:30 - 17:00	F2D, Round 2, cont:d

Friday		July 26

08:00 - 12:00	F2A, Flight 2
13:00 - 17:30	F2A, Flight 2, cont:d
07:30 - 12:30	F2B, Flight 2, cont:d
13:30 - 18:30	F2B, Flight 2, cont:d
07:00 - 11:00	F2C Practice
12:00 - 17:30	F2C, Round 3
07:30 - 11:30	F2D, Round 3
12:30 - 18:00	F2D, Rounds 3 & 4

Saturday	July 27

07:00 - 12:00	F2A, Flight 3
13:00 - 16:30	F2A, Flight 3, cont:d
07:30 - 10:00	F2B, Final Flight 1
10:30 - 13:00	F2B, Final Flight 2
13:45 - 16:15	F2B, Final Flight 3
09:00 - 10:15	F2C Semi-finals Practice
10:30 - 11:30	F2C, Semi-finals 1
12:30 - 13:45	F2C, Semi-finals Practice
14:00 - 15:00	F2C, Semi-finals 2
15:30 - 16:00	F2C Final Practice
16:15		F2C, Final
07:30 - 11:30	F2D, Rounds 5 - 7
12:30 - 16:30	F2D, Rounds 8 - 10
17:30		Prizegiving Ceremony
19:30		Banquet

Sunday		July 28

09:30		Tour: Departure from hotel or Bråvalla by bus.
10:15 - 16:30	Boat Trip
17:00 - 21:00	Seminars (with dinner break)

Entries
The following complete entries were received by June 5:

F2A

Dislers Maris		AUS
Kofler Helmut		AUT
Marksteiner Franz	AUT
Merlin Marc		BEL
Mei Luiz Eduardo	BRA
Peters Ron		CAN
Sackett Chris		CAN
Jørgensen Carsten	DEN
Lyhne-Hansen Niels 	DEN
Valo Jari		FIN
Kiel Udo		GER
Gründel Peter		GER
Forkert Ulrich		GER
Bimbi Zoltán		HUN
Elekes Imre		HUN
Vince Viktor		HUN
Tomelleri Sergio	ITA
Zanin Elio		ITA
Zanin Stefano		ITA
Nakayama Akira		JPN
Rietbergen Paul		NED
Metkemeijer Rob		NED
Bell Bill		NZL
Rachwal Andrzej		POL
Rachwal Tomasz		POL
Miszczyk Adam		POL
Siejda Lukasz		POL Jun
Kostin Sergei		RUS
Struchkov Oleg		RUS
Fedotov Konstantin	RUS
Taran Sergei		RUS Jun
Stjärnesund Per		SWE
Fällgren Göran		SWE
Kjellberg Ove		SWE
Halman Peter		GBR
Isles Gordon		GBR
Morrissey Ken		GBR
Naemura William		USA
Brown Thomas		USA
Hughes William		USA
Fogg Bobby		USA Jun

F2B

Weinseisen Walter	AUT
Wenczel Franz		AUT
Weinmann Erhard		AUT
Milko-Tchernomorets
 Sergei			BLR
Patsouk Valeri		BLR
Chouvaev Vadim		BLR
Borisov Vitaly		BLR Jun
Dessaucy Luc 		BEL
Liber Robert 		BEL
van Dort Paul 		BEL
Gomes Paulo		BRA
Rodrigues Bene		BRA
Magri Amilton		BRA
Tellier Fred		CAN
Doherty Kim		CAN
Higgs Geoff		CAN
Han Xinping		CHN
Niu Anlin		CHN
Wang Hongwei		CHN
Mortensen Leif O	DEN
Wiberg Aage		DEN
Ludwigsen Henrik	DEN
Horsted Jesper		DEN Jun
Kehrävuo Kerkko		FIN
Mayer Elias		FIN
Karma Kai		FIN
Heikinheimo Oskari	FIN Jun
Holtermann Christoph	GER
Degner Uwe		GER
Schnitz Willi		GER
Mórotz Attila		HUN
Tokai Tamás		HUN
Wadovich Zoltán		HUN
Ölbei Dávid		HUN Jun
Trudler Boaz		ISR
Zeira Gilad		ISR
Rozenberg Eliezer	ISR
Ballesio Francesco	ITA
Compostella Luciano	ITA
Maggi Alberto		ITA
Minato Kazuhiro		JPN
Yoshimura Sadahiko	JPN
Yokoyama Mitsuru	JPN
Grigorjevs Aleksejs	LAT
Janssen Erik		NED
van de Mortel Peter	NED
Dziuba Pavel		POL
Siwik Zbigniew		POL
Kubik Sylwester		POL
Kuczynski Maciej	POL Jun
Almedia José		POR
Nóbrega Paulo		POR
Klychkov Sergei 	RUS
Salenek Victor		RUS
Strakhov Vladimir	RUS
Solenin Alexei		RUS Jun
Dugmore Roston		RSA
Attfield Percy		RSA
Renecle Keith		RSA
Andersson Ove		SWE
Björnwall Erik		SWE
Lagerquist Stefan	SWE
Blom Björn 		SWE Jun
Germann Peter		SUI
Borer Hugo		SUI
Berger René		SUI
Draper William		GBR
Eifflander Antoney	GBR
Dickinson Nev		GBR
Walker Paul		USA
Fitzgerald David	USA
Hunt Bob		USA
Barry Derek		USA Jun

F2C

Pilot			Mechanic

Hoogenkamp Ron		Bertina Hans 		AUS
Fitzgerald Rob		Prior Dennis 		AUS
Fischer Josef		Straniak Hans		AUT
Nitsche Heinz		Nitsche Heinz jun	AUT
Dessaucy Luc		Dessaucy Jean		BEL
Mary Wellington		Mary Nelson		BRA
Marques Fernando	Rodrigues Walmir Brait	BRA
Brietzke Ricardo	Wieck Rogerio		BRA
Jerabek John		Parent Ken		CAN
Fairey Richard		Maclean Lloyd		CAN
Leupold Erik		Engfer Klaus		GER
Fauk Gerhard		Krause Bernhard		GER
Lindemann Reinhard	Schönherr Frank		GER
Pennisi Roberto		Rossi Andrea		ITA
Martini Giancarlo	Losi Roberto		ITA
Magli Marcello		Pirazzini Elvis		ITA
Metkemeijer Bert	Metkemeijer Rob		NED
Vendel Micha		van Gemert Peter	NED
Wakkerman Loet		van de Weerd Jan	NED
Boys Alistair		Boys Robin		NZL
Praus Pawel		Urbanski Lukasz		POL
Gumulinski Stanislaw	Braciak Marek		POL
Kobierecki Robert	Raczynski Bartlomiej	POL
Siejda Lukasz		Pyka Remigiusz		POL Jun
Isidro Júlio		Loureiro Joao		POR
Mortinho António	Goulão José		POR
Shabashov Yuri		Ivanov Vladimir 	RUS
Titov Vladimir		Yugov Victor		RUS
Nazin Yuri		Vorobiov Oleg		RUS
Ustinov Denis		Oreshkin Anton		RUS Jun
Samuelsson Bengt-Olof	Axtilius Kjell		SWE
Gustafsson Jan		Olsson Göran		SWE
Stjärnesund Per		Andersson Hans		SWE
Borer Heiner		Saccavino Cesare	SUI
Müller Roman		Saccavino Valentino	SUI
Giger Pascal		Studer Heiner		SUI
Langworth Bernard	Campbell David		GBR
Fitzgerald Michael	Thomason Mark		GBR
Ross Malcolm		Turner Brian		GBR
McCollum John		Lee Bill		USA
Ballard John		Lambert Dick		USA
Ascher Aaron		Ascher Lenard		USA

F2D

Owen Robert 		AUS
Aldhamland Brant 	AUS
Comiskey Michael 	AUS
Mühlparzer Markus	AUT
Königshofer Rudolf	AUT
Staffel Günter		AUT
Jolnerkevitch Igor	BLR
Zagrbelnyi Nikolai	BLR
Mazurine Igor		BLR
Abanvich Dmitri		BLR Jun
Torres Alexandre	BRA
Serafim Mauricio	BRA
Mackenzie Pat		CAN
Mackenzie Ivan		CAN
Lapointe Brad		CAN
Forbech Henning		DEN
Korup Allan		DEN
Bjerager Ole		DEN
Valo Jari		FIN
Leino Laura		FIN
Salmi Heikki		FIN
Karger Jiri		GER
Herbert Andreas		GER
Kowark Gunnar		GER
Sagner Enrico		GER Jun
Molteni Adriano		ITA
Pachetti Andrea		ITA
Pirazzoli Ivo		ITA
Brokans Peteris		LAT
Brods Edvins		LAT
Jalunin Boris		LAT
Viksna Ivo		LAT Jun
Wakkerman Loet		NED
Wakkerman Monique	NED
Olijve Rick		NED
Gibson Bryce Charles	NZL
Wold Jan		NOR
Braciak Marek		POL
Urbanski Pavel		POL Jun
Beliaev Viacheslav	RUS
Faizov Boris		RUS
Necheukhin Nikolay	RUS
Makarov Evgeny		RUS Jun
Bejhem Mats		SWE
Blückert Mattias	SWE
Karlsson Niklas		SWE
Karlsson Jonas		SWE Jun
Disler Michael		SUI
Whillance Mike		GBR
James John		GBR
Frost Tony		GBR
Jones Mervyn		GBR W/C
Stubblefield Dick	USA
McKinzie Joe		USA
Cleveland Mitchell	USA
Rudner Mark		USA Jun

Supplement: F2A Rule Proposal
Sweden proposed an F2A rule change to the CIAM Plenary Meeting this spring, to have final flights at W/Ch and C/Ch. The meeting returned the proposal to the C/L Subcommittee, which in turn found the proposal interesting, but too radical to make a recommendation in favour of it. Instead the Subcommittee asked us to bring the proposal to the attention of the W/Ch participants in one of our bulletins, which is hereby done. Note that this rule will not be in effect for the 1996 W/Ch. The proposal text was:

CLASS F2A, SPEED MODELS

F2A Final Flights
Rule 4.1.11 is changed to:

4.1.11 Number of Flights
Each competitor is entitled to three official flights. At 
World and Continental Championships the ten highest placed 
competitors after these three flights are entitled to a 
final round of two additional flights to be flown on the 
last day of the contest.

At the same time, rule 4.1.17, first paragraph, is changed 
to:

4.1.17 Classification
The best speed attained during the three flights is used 
for the classification. At World and Continental 
Championships, the highest speed attained during the two 
final flights is used for the classification of the first 
ten competitors. The three first positions are subject to 
rechecking of the characteristics of the models used.

And the last two paragraphs are changed to:

To separate the competitors in the case of a tie, the 
second best flight will be used, and in case there still is 
a tie, the third best flight. At World and Continental 
Championships, in the case of a tie when the two final 
flights have been used, the result after the three 
qualifying flights is used.

In addition a clarification of the team classification is 
necessary:

A new rule 4.1.18 is inserted:

4.1.18 Team Classification

The team classification is obtained by adding the best 
speeds of each team member in the three qualifying flights, 
disregarding any final flight results.

Reason:
The recent developments in F2A have been towards a greater 
similarity in equipment leading to a corresponding evenness 
in performance at the top level. Therefore it has become 
important to emphasise the individual skills in handling 
the equipment and the reliability in performance. It also 
means that it has become especially important that the 
contest is decided under as even external conditions as 
possible. At World and Continental Championships, the F2B 
and F2D classes normally decide the number of contest days 
to four, and there is time to allow this change. Together 
with this rule change the resolution of ties and the team 
classification have been clarified and made to be in 
accordance. 
Note:
It is important that the finals starting order is arranged 
so that national teams with more than one participant get a 
reasonable time for preparing.

We ask all to discuss this proposal and to form an opinion that can be communicated to the C/L Subcommittee. This is a suitable topic for the F2A seminar on July 28.
Correspondence and Freight Delivery
---
All official correspondence should be sent to:

SMFF
Bo Hallgren
Box 100 22
S-600 10 NORRKÖPING
SWEDEN
Tel: +46 11-132110
Facsimile: +46 11-169160

---
Freight should be sent to:

SMFF
Bo Hallgren
Sandbergsgatan 4
S-603 55 NORRKÖPING
SWEDEN

---
SMFF and the 1996 World Championships Organising Committee,
Göran Olsson
Secretary, Organising Committee
Mats Bejhem
Chairman, Organising Committee
Robert Sundström
President, SMFF, Contest Director