Welcome to Kyiv and
THE 1998 WORLD CHAMPIONSHIPS
FOR CONTROL LINE AEROMODELS !
August 23-30, 1998, Ukraine, Kyiv
BULLETIN 4
August 9, 1998
This is the additional Bulletin for information to competitors and supporters (distributed by e-mail and fax).
Clarification to the Sporting Code (F2D)
The remark to paragraph 4.4.6 e) (see our Bulletin 3), that was included at the request of the F2D Jury, has caused many questions from combat flyers. That is why the Control Line Subcommittee recommended to publish the following clarification of this:
"The silencer(s) on the glow engines shall have an exhaust opening which will not admit a 8,05 mm (one silencer) or 5,65 mm (two silencers) diameter plug gauges. This restriction on the exaust opening shall be measured not more than 5 mm from the rearmost end of the silencer".
We suggest that the gauge for measuring the exaust opening should be flat and not thicker than 2 mm so that you can measure holes to see if they are out of round.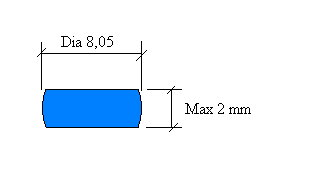 National flags
Organising Committee requests that all teams bring two national flags, not one as was mentioned in earlier Bulletins.
Arrivals details
The teams that have not sent us their arrival details, are requested by Organising committee to send them as soon as possible for making meeting arrangements.
Lunch options
Because now we have included 2 hours lunch break into events schedule (see Bulletin 3), those participiants who have ordered lunches on the airfield (package or hot) will be able to have lunch in a hotel if they want to. Local bus transportation for this will be arranged. Information on buses timetable will be available on the airfield and in hotels.
Brick locked boxes for storage of models and equipment are provided.
Contact with office from 18 August
From 18 August we can be contacted by phone at the airfield: +380 (44) 444 11 54.
Fax and e-mail messages will be delivered to the airfield once a day by messenger.
Best wishes for the competition and your stay,
FAS of Ukraine and 1998 World Championships Organisers,
| | |
| --- | --- |
| Mikhail Zakharov | Valentin Mozyrsky |
| Director | Contest Director |