SVERIGES MODELLFLYGFÖRBUND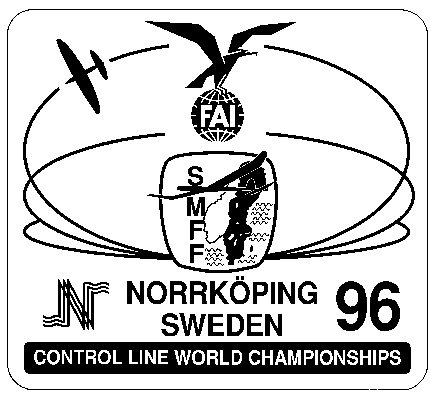 THE 1996 WORLD CHAMPIONSHIPS FOR CONTROL LINE AEROMODELS
July 22-28, Norrköping, Sweden
BULLETIN 1
February 7, 1996 (corrected April 3)
The Swedish Model Flying Federation (SMFF) cordially invites your National Team to the 1996 Control Line World Championships!
The Competition Categories
F2A Speed
F2C Team Racing
F2B Aerobatics
F2D Combat
Both junior and senior events will be held in combination.
The individual categories will be held on condition that at least five nations enter.
Rules will be according to the FAI Sporting Code issued 1993, with applicable amendments and clarifications.
The official language will be English.
Location
The city of Norrköping, population 120,000 and the location of the SMFF headquarters, is located by a narrow bay of the Baltic Sea, 110 kilometres south-west of Stockholm.
Maps showing the city, hotel and contest site locations are found on an attached sheet.[No link yet. Sorry]
Contest Site
The World Championships contest site is Bråvalla, a former air force base, located four kilometres west of the city. See map on the attached sheet.
For F2A and F2C there will be two fenced contest circles arranged on a paved area.
The F2B contest circle will be arranged in the mid-field runway crossing in completely open terrain for minimum air turbulence, at a distance of about 900 metres from the other circles. Parking and other facilities will be arranged also nearby the F2B area.
F2D will be run on a grass field adjacent to the F2A and F2C circles, with practice areas nearby.
Runways of 40 metres width will provide abundant practice circles, and will be available several days before the official arrival date.
Buildings for contest headquarters, model processing, commerce, hygiene and servicing are within 200 metres of the main contest area.
Schedule
All dates are July, 1996
[This table and the other tables below become hard to read if your browser does not support tables. Sorry.]

Monday 22
Arrival, Briefing

Tuesday 23
Registration, Processing,
Official Practice, Opening Ceremony

Wednesday 24
F2B: First Flight (2/3)
F2D: First Round
F2A & F2C: Practice

Thursday 25
F2A: First Flight
F2B: First Flight (1/3)
Second Flight (1/3)
F2C: First Round
F2D: Second Round

Friday 26
F2A: Second Flight
F2B: Second Flight (2/3)
F2C: Second Round
F2D: Following Rounds

Saturday 27
F2A: Third Flight
F2B: Finals
F2C: Semi-finals & Final
F2D: Last Rounds & Final
Awards & Closing Ceremony, Banquet

Sunday 28
Optional: Tour
Seminars for all categories

Monday 29
Departure

Tour and Seminar Day
Although a spare day is recommended, it is normally excluded. At the northern latitude of Norrköping there are seventeen hours of daylight, which will provide sufficient time for rescheduling due to bad weather. Instead we have scheduled an extra day after the competition, set aside for a tour, probably a boat trip on the Baltic Sea and the archipelago. This day also allows for seminars, where the judges get the opportunity to brief the competitors on rule interpretation as well as other subjects. This is optional, and the fees below for food and accommodation do not include the extra day and the tour. The CIAM Bureau approved of this arrangement.
A tourist programme will also be offered during contest days.
Participation
Seniors:
Each nation may enter up to three competitors (F2C: teams) in each category, a team manager and an assistant team manager, as well as helpers and supporters.
The 1994 World Champions are also entitled to enter, subject to approval of their NAC.
Juniors:
Each nation may enter one junior (F2C: junior team) in each category in addition to the regular team.
The 1994 Junior World Champions are also entitled to enter, on condition that they still are juniors. (See below for CIAM interpretation.)
The juniors will take part in the combined senior & junior events.
The results will be presented separately, as well as in combination with the seniors.
If at least five juniors enter a category, junior prizes and a champion title will be awarded.
The result of a junior will enhance the national team result if it is better than the lowest regular team member's result.
Juniors may use senior helpers, where helpers are allowed.
For junior F2C teams, both pilot and mechanic must be juniors.
In F2C a junior final will be held if at least three teams (out of at least five) post a qualifying time.
Following the combined F2D competition, additional matches will be flown among the juniors as necessary to resolve the top three positions.
IMPORTANT: The CIAM Bureau has issued a clarification of the previously ambiguous Rule B.3.4 of the Sporting Code:
A competitor is considered to be a junior up to and including the calendar year in which he attains the age of 19 (nineteen). All other competitors who are older are classified as seniors.
Also, the last sentence, This rule... is of course no longer valid.

The CIAM Bureau has informed us that our interpretation of the rule change is wrong. The age figure should be 18 (eighteen).
FAI Jury and Judges
The following jurors and judges selected from the CIAM approved list have accepted invitations and have been approved by the CIAM Bureau:
FAI Jury

President:
Laird Jackson
U.S.A.

Vernon Hunt
United Kingdom

Carl-Göran Sundstedt
Sweden

Reserves:
Karlis Plocins
Latvia

Guido Michiels
Belgium

F2B Judges

Stefan Kraszewski
Poland

Art Adamisin
U.S.A.

Gan Yanlong
China

Pia Buth Rasmussen
Denmark

Lennart Helje
Sweden

Reserves:


Europe:
Bernadette Gilbert
France

U.S.A:
(not settled yet)

China:
Chen Yaming

F2C Judges

Derek Heaton
United Kingdom

Luis Petersen
Denmark

Bruno Delor
France

Reserves:
Per Ehnwall
Sweden

Karlis Plocins
Latvia

F2D Judges

Ingemar Larsson
Sweden

Guido Michiels
Belgium

Thomas Dürrfeld
Germany

Reserves:
Rob Olijve
Netherlands

Vernon Hunt
United Kingdom

Awards
Individual:
FAI Medals to first through third places, with additional prizes provided by SMFF.
FAI Diploma to first through tenth places.
All competitors will receive an SMFF certificate.
Challenge Trophies where applicable.
Team:
FAI Diploma to first place team members and manager.
Challenge Trophies where applicable.
Accommodations
Lodging; Three alternatives are available:
Hotel, two-bed room. The hotel is situated north of the city, on the main road to Stockholm. The distance to the contest site is five kilometres by car. Single bed or three-bed rooms are also available. In addition, extra beds for children can be arranged. There are only a limited number of three-bed rooms, and first allocation will be made to families. The hotel has high standard and includes restaurant and an indoor pool.
Dormitory (barrack), 400-600 metres from the contest site inside the airbase area, four beds per room. Own bed sheet or sleeping bag are required. The rooms have no locks but have steel cupboards for each bed, lockable by own padlock. There are hot water showers and lavatories on each floor. Two additional alternatives are being investigated: Room with no beds, for sleeping on the floor with own mattress and sleeping bag at a lower price; Room with a locked door at a higher price.
Camping, close to the contest site, for tent, camper or caravan. Hygiene facilities including hot water showers in nearby building.
Food:
Breakfast, lunch and dinner will be served in a canteen around 500 metres from the contest site.
Hotel residents will get breakfast and dinner at the hotel.
The awards banquet will be held in a ballroom restaurant.
Transportation
Norrköping is conveniently situated along main roads and railroads.
Several daily airline connections are available to Copenhagen and Stockholm.
Bus transportation between hotel and contest site will be available upon request in advance.
Car parking is available inside the fenced airbase area close to the contest site.
A tram line one kilometre from the site connects to the city.
Weather Conditions
Temperature is 15-22 °C when overcast and 18-28 °C when sunny.
Wind is normally light.
The altitude of Bråvalla is 27 metres above sea level.
Sun rises around 04:30 and sets around 21:30 (daylight saving time).
---
Entry Fees
Obligatory Entry Fees
(per person)
CHF
(Swiss Francs)

- Competitors, Team Managers
and Assistant Team Managers
250

- Junior Competitors
125

- Helpers, Supporters, Press
and Independent Observers
50


For each additional competition
category, add 50% of the entry fee.

Lodging (per person)
6 days
additional
day

1, Hotel, includes breakfast
two-bed room (main alternative)
347
58

single-bed room (optional)
550
92

three-bed room (limited in number)
281
47

2, Dormitory
90
15

3, Camping
22
3.70

Meals

-normal:
6 x breakfast, 5 x lunch, 5 x dinner
160
24

-for hotel guests:
5 x lunch, 5 x dinner
120
31

Banquet
47

Tour and Seminars
not yet determined

Early arrivals and late departures can be booked.
Children under the age of 12 accompanying paying adults are free of cost, including accommodation. They are offered meals at a reduced cost, not yet determined.
The fees must be paid in Swedish Kronor (SEK) in the amount corresponding to the values given in CHF as specified by the SMFF in the Final Entry Form.
Fees must be paid no later than May 22.
Later entries are accepted at the discretion of the organisers.
There will be an additional 6% charge on the obligatory entry fees for payments received May 23 to June 22, and 12% after June 22.
Net additional costs for late bookings of accommodations will also be charged.
Currency exchange rates at the time of writing: 1 CHF = .82 USD = 5.78 SEK.
Official Bulletins and Entry Forms
This bulletin, number 1, is sent to all FAI member NAC:s.
The following bulletins will be sent only to those NAC:s that announce their entry on the enclosed Preliminary Entry Form.
The release dates are preliminary.

Bulletin 1, February 7
General Information, Preliminary Entry Form,
To be returned no later than March 20.

Bulletin 2, April 17
Detailed Information, Final Entry Form,
To be returned no later than May 22.

Bulletin 3, June 10
Latest News, Presentation of Entries.
---
Internet
A project to distribute information about the World Championships over the Internet computer network has been running for over one year. At present over fifty people representing all inhabited continents are on the list. There is also a 'mailing list', allowing people to chat and discuss matters. Requests should be sent to the e-mail address below. Information is also available through the "World-Wide Web" at the address below.
The status of this project and the information is non-official.

e-mail see page (Göran Olsson)
www: http://www.plasma.kth.se/~olsson/wc96.html
---
Correspondence
All official correspondence should be sent to:

SMFF
Bo Hallgren
Box 100 22
S-600 10 NORRKÖPING
SWEDEN
Tel: +46 11-132110
Facsimile: +46 11-169160

---
SMFF and the 1996 World Championships Organising Committee,
Göran Olsson
Secretary, Organising Committee
Mats Bejhem
Chairman, Organising Committee
Robert Sundström
President, SMFF