Last Update February 3, 1997. This information is not official, unless otherwise stated.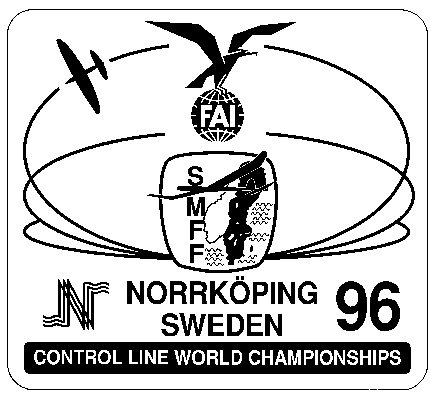 ---
THE CONTROL LINE MODEL AIRPLANE WORLD CHAMPIONSHIPS 1996

took place July 22 to July 28 in Norrköping, Sweden.
What is Control Line Model Flying?
---
This turned out to be the largest ever championships event in any airsport!
Over 700 people were listed as entered competitors, team managers, helpers, supporters, judges and officials.
There were exactly 300 entries (excluding team managers) from 33 countries. Of these, 30 were juniors.
Through an on-site internet connection, newsbriefs from the contest were issued, and e-mail information was relayed between the competitors and their home supporters. This was the first time Internet was used at an Aeromodelling World Championships
Introduction, July 16 | On Site report #1, July 19 | On Site report #2, July 21 | On Site report #3, July 25 | On Site report #4, July 27, morning
---
As a self-extracting Word for Windows 2.0 file, September 28. (Instructions and font files included. Size 200 kb. Load the file into a suitable directory on your disk and execute it.) A Word file viewer can be fetched from here if you haven't Word installed.
Followup, October 12
Percy Attfield's roundup, Notes from the seminars.
Mystery Pictures from a roll of film found on the site.
---
The site was Bråvalla, a former Air Force base, a few kilometres to the west of the city. The preliminary site layout.
---
Some of the background:
The terms and conditions were approved by the FAI CIAM Bureau in January. Check the Official Bulletins No. 1 (Feb 7), No. 2 (Apr 19) and No. 3 (Jun 11). Last pre-champs update (July 14).
---
The World Championships logotype in full resolution (33k).
---